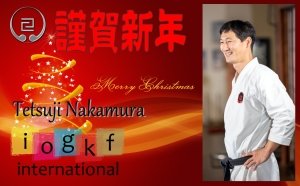 2018 has been a wonderful year for IOGKF International. We have seen our organisation grow and achieve many milestones throughout this year. I would like to thank all the country chief instructors for their continued efforts to promote and protect traditional karate all around the world.
With the support of these chief instructors, IOGKF International was able to host many successful major events. The Miyagi Chojun Festival in Canada, the European Gasshuku in England, Chief Instructors Gasshuku in Okinawa and the South American Gasshuku in Peru were all fantastic events supported by many IOGKF member countries. I want to thank everyone who made the effort to support these events.
One such person who has been supporting and developing IOGKF International for many, many years now is Sensei Jorge Monteiro (Chief Instructor of IOGKF Portugal). For his many years of dedications and commitment towards protecting traditional karate, I asked him to be an official advisor for IOGKF and he kindly accepted my offer. This is a great promotion for all us and Sensei Monteiro's advice and wisdom will help us to further grow IOGKF worldwide in 2019 and beyond.
Speaking of growth, IOGKF welcomed three new member countries this year with Taiwan, Paraguay and Vanuatu all joining our organisation. Once again, I would like to warmly welcome these new organisations into the IOGKF Family.
One thing I greatly enjoyed this year was to see Higaonna Sensei and train with him numerous time. Higaonna Sensei is doing very well, and he is very excited and looking forward to seeing everyone at the World Budosai event in July next year. Higaonna Sensei is putting a lot of effort into this event to ensure it will be a truly memorable occasion as we celebrate 40 years of IOGKF International.
We also had a sad news from China that Sensei Lam King Fung (Chief Instructor of IOGKF China) passed away in August. He was one of the original members of IOGKF since its establishment. He will be missed by many of us.
I would like to wish all our members around the world and their families a very Merry Christmas and a safe and happy new year in 2019! Enjoy the festive season and I look forward to seeing you all in 2019 in Okinawa!
Tetsuji Nakamura
IOGKF World Chief Instructor