IOGKF International is very sad to report the passing of Sensei Chris Larken, 7th Dan &  chief instructor of Australia. To send a message of condolence, please email: admin@iogkf.com
Click Here to see messages of condolence from IOGKF members across the globe
Click Here to see a message of response from Mrs. Kerri Larken
Sensei Chris began his Karate training in Newcastle, Australia as a young man in 1970. He was graded to Shodan in 1977, by Sensei John Jarvis. Sensei Jarvis had built a Kyokushinkai Karate empire in Australia and New Zealand at that time and when Sensei Higaonna first came to Australia in the late 1970's, as a guest of Sensei Jarvis and prior to the formation of IOGKF worldwide, Sensei Chris converted to Okinawan Goju-ryu, after experiencing the exceptional strength, technical expertise and humility of a true master and role model.
As a young man, Sensei Chris Larken was a natural athlete, being captain of the local cricket side amongst his many achievements. He worked as a tiler and had his own successful business. His Dojo in the Kotara area of Newcastle, Australia has been in the area for over 40 years and has produced many fine Karate-ka.
He considered himself fortunate to have been instructed and graded throughout his lengthy career by one of the world's greatest living masters in Higaonna Sensei.
Sensei Chris has always been considered a senior instructor in Australia's long running IOGKF history. In 2000 following the passing of then chief instructor, Sensei David Lambert sr, he was elevated by Sensei Higaonna to the newly formed Australian Kambukai, where he served until the Kambukai was reformatted to see a joint chief instructorship between both he and Sensei Joe Roses. Sensei Chris has had a large involvement in the guidance of IOGKF in Australia for many, many years.
Sensei Chris was a well-traveled instructor, making the effort to attend many international Gasshuku and world Budosai events during his karate career. In addition, he has also trained at a European Gasshuku's, Ubuntu & Chief Instructors Gasshuku's in South Africa, chief instructors and Budosai events in Okinawa and Oceania Gasshuku's in New Zealand. Many IOGKF members would have experienced Sensei Chris' instruction at the 2015 Miyagi Chojun Festival in Canada where he was a featured instructor.
Many Australian and Asian Pacific Gasshuku's have been organised and held in Newcastle, Australia by Sensei Chris, where he hosted world class instructors, including Sensei Higaonna, Sensei Bakkies Laubsher and Sensei Tetsuji Nakamura – forging life-long friendships in the process.
At the 2012 World Budosai in Naha, Okinawa, Sensei Chris was graded to 7th Dan by grand master Morio Higaonna. An amazing achievement for an inspiring 46 year journey in Karate. In 2015 the AOGKF awarded Sensei Chris Larken a lifetime achievement award for his 40 years of protecting and spreading the Goju-ryu Karate of Higaonna Sensei in Australia. The award was presented to him by world chief instructor Sensei Nakamura in front of a full house of Australian IOGKF members and to thunderous applause.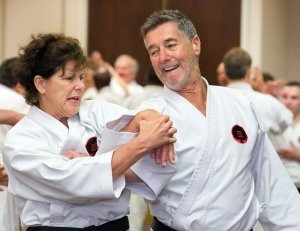 It was no secret though that Sensei Chris' greatest joy in life came from his wife Kerri, who he adored. Kerri has also achieved black belt status in IOGKF and has accompanied Sensei Chris on his many adventures around the world. They are true soul mates, who many people across the globe admire.
Despite his recent illness, Sensei Chris Larken astounded many people when he arrived in Okinawa in July 2016 to participate in the most recent world Budosai. His efforts to attend this event did not go unnoticed and he received a personal award from Master Morio Higaonna at the official closing ceremony of the event.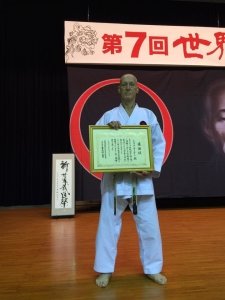 Sensei Chris Larken was a true Aussie mate, always with a story to tell and an with an infectious laugh that would light up any room. IOGKF both in Australia and world wide has lost another true, long time character that makes our organisation so iconic. He may now be gone, but he will never be forgotten by the many Karate-ka around the world that shared continued admiration for him.