Budosai excitement fever is still spreading worldwide! More and more people are still registering to train each day as the event is almost upon us! The chance for you to train in the birthplace of Karate, along with experience the wonder that is Okinawa. This is a rare opportunity and one you definitely want to make the most of. If you have never been to Okinawa before, or if you have and it has been a while, then take a read of our helpful guide for getting around Okinawa, specifically for Budosai attendees.
Arriving in Okinawa
Assuming you are arriving to Okinawa in the most common way (via aeroplane), you will be landing at Naha International Airport. The airport is small compared to most International airports you will probably transit through, but has undergone refurbishments several years ago and has grown in size since previous Budosai's.
There are two sections of the airport, domestic and International. If you are transiting to Okinawa, via a stay in Japan, you will clear customs on the mainland before traveling to Okinawa. This means you will most likely arrive at the domestic terminal in Okinawa. If you are flying directly in to Okinawa from outside of Japan then you will need to clear customs at the International terminal upon your arrival.
Either way, PLEASE NOTE: The Japanese government will not admit those people to Japan or Okinawa who have 6 months or less remaining on the expiry date of their passport! If you have 6 months remaining or are even close to that mark, we strongly recommend renewing your passport before traveling to Okinawa and Japan. (Do yourself a favor and prevent any hassles at airports for you and your group by ensuring you are covered in this area).
When passing through immigration and customs, please ensure you have the address of your accommodation and their telephone number for your forms. Customs officials in Japan and Okinawa can often be very strict if you do not have any details of where you will stay while you are in their country.
Once you cleared customs and picked up your baggage, you need to find your hotel. Being the world Budosai, nearly every hotel and apartment complex in Okinawa is booked solid. Unless your hotel has a pick up service, you will need to find your own way to your accommodation. If you have cleared customs correctly, you should have your accommodation address details with you.
To travel to your hotel, you can either try and catch a taxi at the airport (check the driver knows the location of your accommodation first) or jump onto the monorail (check which monorail station is closest to where you are staying first, google maps can usually help you with this).
Taxi ranks are located at the front of both the International and Domestic terminals. Be careful as you approach your taxi and the rear doors of these cars in Okinawa open and swing out at you automatically.
If you are going to take the monorail, Naha Kuko (Naha Airport) station is the first stop on the entire line. The station is located as part of the domestic terminal (around 500 metres walking from the entrance of the International terminal). Don't panic too much about being able to find your way around at the airport. There are signs in multiple languages including English.
Traveling around Okinawa
Take decent shoes! In Okinawa you will do a lot of walking, so ensure you have good, comfortable and supportive shoes packed for your trip. For the central areas of Okinawa, walking is the best way to take it all the sites and experience the culture. It is advised to ask your hotel for their business card in case you get lost, so a taxi driver or a local can assist.
However if you are going to travel further up the island, the monorail is the best and most economic form. There are monorail (yui rail) stations posted all up the island. They start at the airport at end at Shuri city. To go any further than Shuri, you will need to organise your own transport by car hire (just a reminder Okinawan's drive on the left side of the road) or by bus, which can be organised at the Okinawan tourist information center.
The monorail runs two lines, one heading towards the airport and one heading towards Shuri. Make sure you get your bearings and remember which direction you need to be heading before and after training to get back to your hotels, etc.
Some useful stations for popular sites:
Naha Kuko Station (那覇空港): Naha International Airport
Onoyama Koen or Tsubogawa Station (奥武山公園): These stations are the best to hop off at if you are going to the Okinawan prefectural Budokan for training at the Budosai. If you keep your eyes open as your approach these stations you will see the Budokan; it's the massive building shaped like a samurai helmet! There are also beautiful gardens in this area, great for photo opportunities. And sometime weekend markets also run in the area.
Asahibashi Station (旭橋): This station can connect you with the Naha Bus terminal if you want to travel further along the island than the monorail allows.
Kencho Mae Station (県庁前): This station will bring you to the western end of Kokusai Dori (the main street of Naha).
Miebashi Station (美栄橋): This will place you close to some of the street market locations.
Makishi Station (牧志): This will drop you at the other end of Kokusai dori. Best station to get off for Shureido (about two blocks walk away) and for supermarkets, convenience stores, etc.
Asato Station (安里): This is the best station to get off to visit the Higaonna Karate Dojo. (Instructions and etiquette on this later in this guide).
Omoromachi Station (おもろまち): This will drop you off at the Shin-toshin shopping district. Very impressive malls, cinemas (including English films) and more.
Shuri Station (首里): Here you will be able to access Shuri castle, the Okinawan prefectural museum and Awamori (Okinawan fire water) breweries.
There are of course more stations where you can hop off the monorail and explore. Below is a map of the full line:
You will need to purchase your tickets from the ticket machines provided. There are Japanese and English options available. If you are staying a while, it is often worth purchasing a 3 day pass if you are going to be using the monorail frequently. When you go through the gates to head to the platform, be sure to retrieve your ticket from the gate machine so you can depart the station at the other end.
The monorail runs its first service from 6:00am and finishes at 11:30pm every day. If you are a long way from your hotel, make sure you don't miss the last services and allow plenty of time to get back.
Paying your way:
Whether you are eating, shopping or traveling you are going to obviously have to pay for things. What is not so obvious is that a majority of credit cards (including major ones), along travel cards will not work in Okinawa. Cash is the best option! Do not get caught out! A majority of ATM's will also not accept foreign cards to distribute money.
Bringing cash with you will make all of your transactions fast and simple. If you get a little excited and spend all of your cash, ATM's at most post offices will recognize foreign cards, but expect a decent transaction fee on your account when you get home. Post office locations have the following symbol: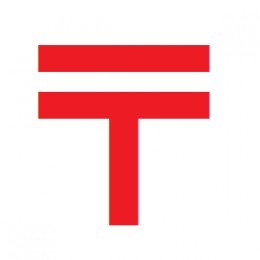 There is a post office located close to Makishi Station, just up along from the Lawson's convenience store on the corner. This location is open 10am – 5pm Monday – Friday. Most post office ATM's offer an English guide.
If you want to try your luck using bank facilities and ATM's, please be aware that in Japan and Okinawa ATM's are only open from Monday – Friday, 10am-5pm. They are not 24 hours like in the western world. Banks are closed weekends and National holidays. Actual banking hours are Mon- Friday 10am to 3.30pm. You can exchange traveller's cheques and foreign currency at most main branches, including the post office.
If you are taking place in the IOGKF Black belt grading during the Budosai, we strongly suggest you organise your US currency grading fee prior to arriving in Okinawa. If you have to organise this while in Okinawa, there are foreign currency outlets at the airport and also at some local banks. However, there is no guarantee that they will have enough in supply to facilitate your needs, hence why we suggest being organised prior. Photo machines are also located at most convenience stores if you need one for your form.
Also, as a footnote to this topic, tipping is not necessary in Japan or Okinawa.
Eating and Drinking:
Don't knock it until you've tried it! There is a reason Okinawan's have the longest life span in the world, their diet. Expand your horizons and try new things. Be prepared to eat a lot of rice and noodles, but they are not your average type – these are the best in the world.
Most food dishes in Okinawa contain pork. If you do not like pork or are a vegetarian try saying 'Niku nashi' ("No meat") or 'buta niku nashi' ("No pork please.").
Be aware that although you may have avoided the beef/pork dishes they may bring dishes with fish in then anyway. Vegetarians in Japan need good communication skills and patience. You will have to convince your waiter/waitress that you really don't want meat.
Most places you will have to eat with chopsticks (yes, because you are in Okinawa). If you do not use chopsticks often, a good idea is to go a purchase a pair and practice at home before you leave. There is an endless list of chopstick etiquette, but the most basic is do not stab your food and do not leave your chopsticks standing up in your dish. If you need to sit them down, place them neatly on top of your dish. Also if you are sharing a dish, it is polite to reverse your chopsticks and not use the end that goes in your mouth, while you are serving your own food.
Here are some general food and drink terminology to help you understand exactly what you are ordering:
TYPICAL JAPANESE FOODS:
Soba: thin buckwheat noodles.
Udon: a thicker wheat noodle.
Tempura: various food deep fried in batter.
Yakitori: grilled chicken.
Sashimi: raw fish.
Sushi: raw fish on rice.
Miso soup: soybean paste soup.
Sukiyaki: beef and vegetables in soy sauce.
Tofu: soybean curd.
Tonkatsu: fried pork cutlet.
OKINAWAN FOOD:
Champuru: is the Okinawan word for 'mixture'. There are many kinds of Champuru foods in Okinawa. Usually contain vegetables, tofu and spam (canned pork has remained very popular since the war).
Somen champuru: is made from thin noodles (somen) with tuna.
Goya Champuru contains Goya: A bitter melon, green like a cucumber with warts & high in vitamins.
Okinawa Soba/naha soba/ soki soba: Soba noodle in pork broth soup, with pieces of pork.
Ude tofu: A boiled tofu dish.
Mimi gwa: Thinly sliced pigs ears in a peanut sauce.
Mozoku: Seaweed dish. Quite refreshing and healthy.
Taco rice: Okinawan version of a taco, except made with rice. Strangely it does taste like a Taco.
Tebichi: Broiled pig's feet
DRINK:
Orien beer: The Okinawans favourite beer.
Helios: another Okinawan beer.
Awamori: Okinawan spirits/firewater. A type of sake usually mixed with water and ice before drinking.
Habu sake: Awamori with the local poisonous snake (a habu) fermenting in the bottom.
Goya juice: has to be tasted to be believed. Goya is bitter Okinawan melon.
Shiquasar juice: Shiquasar is a citrus fruit. A cross between lemon, lime and unripe mandarin, the taste is sharp but refreshing.
Mizu: Is water and is drinkable in Naha city but doesn't always taste so good. Bottled water is nicer. The running water in Naha is safe to drink.
Sports drinks: Good for during training and those sweating a lot in the heat. Try Pocari Sweat, Aquarious or the more familiar Gatorade. Most vending machines will sell these directly off the street.
Shoes off
SHOES! Okinawan and Japanese cultures do not allow shoes within most buildings. You will find that public places like hotel lobbies and shops are fine, but they must come off before entering hotel rooms and the like. There is generally an area for you to remove shoes before these sections.
You may also find with public toilets and washrooms, that there may be special slippers for you to wear to save from dirtying your own feet. Please do your best to wear these.
Regardless of where you take your shoes off, make sure you put them neatly side by side and facing backwards (ready for you to slip back into them when you are coming back to leave. At the Budokan, there are special shoe box compartments ready for you to store your shoes in.
Kokusai Dori
International Street! The main street of Naha, the capital city of Okinawa. Kokusai Dori a hive of beautiful shops, never ending markets, amazing restaurants and much, much more. Located a few blocks from Higaonna Sensei's Dojo, most hotels are based in the area. However if you are not staying in the area, you can best access this very popular district best via the monorail by arriving into Makishi Station or Kencho Mae Station.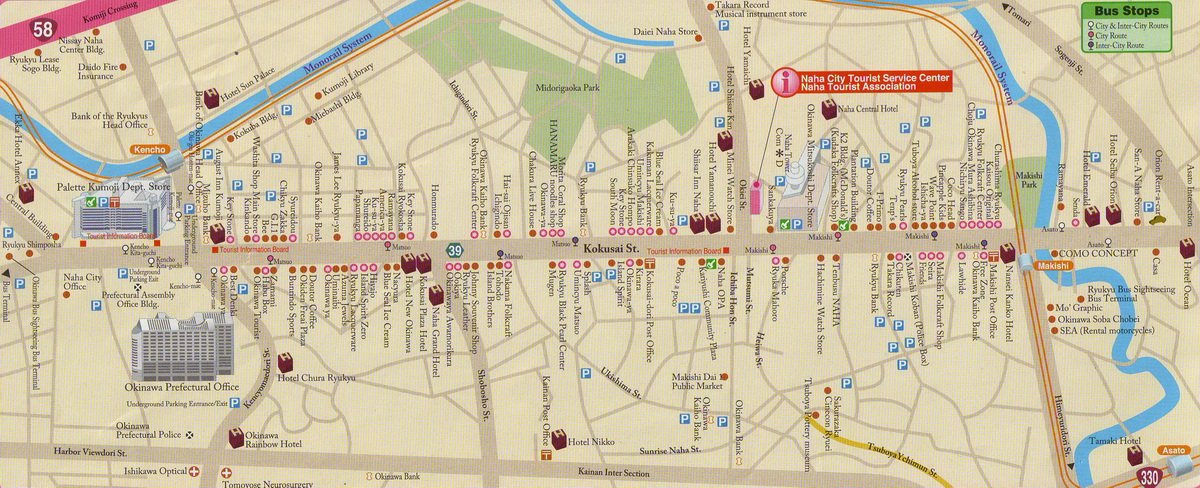 The Heiwa dori and other street market complexes all branch off Kokusai Dori and there are plenty of places for you to eat and shops to explore on the way. But it is at night time when Kokusai Dori comes to life! More on this in our upcoming articles.
Higaonna Karate Dojo
Please be respectful that this location is also Higaonna Sensei's home. He needs his private space, as do the rest of us. Under no circumstances should you go upstairs to Higaonna Sensei's house and disturb his resting time. He will be very busy with preparations for the Budosai, so do not expect to see him in the Dojo.
If the doors are open and there is no formal class running, you are welcome to enquire if you can enter. If the door is closed, please do not disturb the practice of those inside. You are welcome to take pictures, but please leave your shoes outside and very neatly by the door as Higaonna Sensei is very strict about having the correct etiquette in his Dojo.
If you are lucky enough to participate in a session at the Dojo, please do not use any of the Hojo undo equipment without permission. Especially the Nigiri Game (gripping jars)!
To get to the Dojo, if you arrive at Asato station as walk down the road (as if heading away from Kokusai Dori) about 500 metres along the road you will eventually see a sign for the Higaonna Karate Dojo, saying it is only 100 metres away. Follow the back alley next to sign around to the right and then take the sharp left turn up the hill. The signage on the Dojo should be clearly visible from there.
A general rule to go by is that if the front door is closed all the way and there are two large wooden geta (Okinawan wooden shoes) placed neatly in front of it, Higaonna Sensei is having his own personal time in the Dojo. Please do not disturb his personal practice time.
Please respect Higaonna Sensei's Dojo, his belongings and most importantly his home.
Wash Day
There is always a debate over what is the most effective fighting technique practiced during the Budosai, but most will always agree it is the technique of being first to win the fight for the washing machine!
Training all day at the Budosai means sweaty gi's…not just for you but over a thousand others also. If your hotel has no laundry service (most do), then there is sure to be a Laundromat hidden somewhere close by. Most take a few 100 Yen coins and are very reliable. If you can team up with a few others it brings the cost (and que) down.
We strongly recommend bringing a minimum of two gi's for the world budosai, along with working out where you will be doing your washing. Some apartments in Naha, come equipped with a washing machine in the room, however be aware there will most likely be a utilities bill charged upon your departure. This can be upwards of 10,000 Yen per week, depending on how many times you use it.
If Okinawa has its typical July humidity, you probably won't need a dryer! A few minutes on your balcony and you should be right to go again.
Weather
It's going to be hot and it's going to be humid – Okinawa is a tropical island after all. July is Okinawa's summer and you can expect temperatures to be around the mid – high 30's (Celsius) and the humidity to sit around the 85%-90% mark.
Ensuring you always have plenty of drinks, a good hat, sun glass and sun screen cream or lotion on you is the best way to beat the heat. The Okinawan sun can be dangerous if you don't take it seriously. Look after yourself with plenty of fluids and sun protection and you will absolutely love the climate. If you are going to go sun baking on the beach, don't fall asleep!
June to September is also Typhoon season in Okinawa. Occasionally Typhoons will move over Okinawa, but there is always plenty of notice and they do not hang around for too long or cause much disruption.
Clothing
Pack your summer clothing and you should be fine. Anything made of cotton will have you feeling much more comfortable as it breathes better in the Okinawan climate. Do not walk around barefoot, but flip flops and other summer foot wear is totally acceptable.
Preparing for a day at the Budokan
Preparing for a day at the Budokan means you want to ensure you have a back pack with a change of clothes, sweat towel, etc. It also means preparing yourself with appropriate food and drink for your day.
The Budokan does have a small family mart convenience store and some vending machines on hand for small snacks and drinks, however if you and one thousand plus other people have the same idea, you may come up empty handed. Be sure you are prepared to avoid disappointment.
Registration for the 2016 World Budosai
This event will take place at the Budokan. At this point registration is open from 9am – 5pm on July 25th. However please check the IOGKF facebook page and website closer to the day for a confirmed timetable.
This is a huge process and will be grouped by country. Please be patient as the Budosai staff (most of whom are IOGKF volunteers) process your registration. They are most efficient and if there is an issue, they will help you solve it.
PLEASE NOTE: A reminder to those attending the event who are not members of IOGKF, that you are required to have a letter from your countries IOGKF chief instructor. All other personal and verbal invitations are now void and will not be accepted at the Budosai. You need express written permission from your countries IOGKF chief instructor or your registration will not be able to be completed – there can be no exceptions made on this. You are responsible for organising this with your countries IOGKF head prior to the registration.
Sightseeing and getting to the sights
Our next article '15 places you must visit while in Okinawa' will follow this article soon! It will cover the best sights to see and things to do, along with how to get to them.
As for getting to the sights, the Budosai event website, which can be accessed through www.iogkf.com has the option to book onto tours heading to some of the sites in our next article. Along with this, the tourist information centre in Naha, located at 3-2-10 Tenbusu Naha, 1st floor Makishi, Naha-shi, Okinawa, can assist you with organising bookings for tours, transport, etc.
A night out on the town
After training hard, it's time to relax! If you are going to head out on the town and visit some of the local bars and experience the local nightlife, you are going to have a blast. There are literally hundreds of places you can get a drink and a nice meal. Just be aware that many places have a cover charge. Even though you are paying for your drinks and food, you may be asked for cover charge when entering or when you are leaving.
If you want to know if there is a cover charge prior to entering, simply ask to avoid any confusion later. Okinawa has many great hosts at many local establishments running everything from Karaoke contests to bartenders showing off their amazing guitar skills. If you find a place you like, it is a nice idea to keep going back there regularly and your hosts will no doubt remember and appreciate you and look after you more and more. Don't be surprised if some owners join you for a drink!
The drinking age in Japan and Okinawa is 20 years of age.
Calling home
Most hotels will have wi-fi options available that can support services such as Skype, Viber and Facebook voice call.
If you prefer to use telephone, public phone will be the most cost effective option. Telephones in Japan are colour coded. A green phone takes either coins or a phone card and is used for making domestic calls only. A gray telephone can be used for domestic or International calls. Cards or coins can be used and there is a guide in English on the telephone display.
Pre-paid calling cards are available at convenience stores, (lawsons, family mart, etc.) or you can make collect calls or use your own credit calling service. The country code for Japan is '81' (+98 for Okinawa).
Medical Attention
We sincerely hope you will not need any of these details during your stay in Okinawa and Japan, but just in case:
Okinawa central hospital: 2 Chome-31-1 Furujima, Naha, Okinawa Prefecture 902-0061, Japan – (098) 854 5511
Adventist Medical center: (Doctors here speak English) (098) 946-2833.
It is highly recommended and an excellent idea to ensure you have travel insurance covering any medical incidents which may occur when traveling overseas.
Emergency Help
Once again, we really hope you will not need to use any of these details.
The emergency number to call in Okinawa is: 119. To ask for help say: 'Tasu kete kudasai'.
Ambulance is: 'Kyu Kyu Sha'
Fire is: 'Kaji'
Police: Naha city police station phone number is: +098 836 0110
Helpline: The Japan Helpline is a 24 hour service, toll free and offers advice in many languages. 0210-461-997
Most Importantly
Enjoy the experience! Okinawan people are very friendly and welcoming. Immerse yourself in the culture, try new food, make new friends and have a try of anything new that is made available to you. The land of Karate and long life is best experienced by literally jumping in the deep end.
If you only make it to Okinawa once in your life, make the most of it! If you are lucky enough to be back again for another visit, try and find new experiences to go along with your old favourites.
Keep counting the days…
ARTICLES COMING SOON:
15 places you MUST see while you are in Okinawa
The significance of Higaonna Sensei
and more
Article reference: Anni's Okinawan Survival Guide