The IOGKF World Budosai countdown is well and truly on, with people from every corner of the globe registering in their hundreds to participate in this traditional martial arts event like no other. The International Okinawan Goju-ryu Karate-do Federation (IOGKF) is the largest Okinawan traditional martial arts organization in the world. It's over 35 year history has brought about the development of some of the world's best Goju-ryu instructors, some of which have been training for over half a century.
Having such a wealth of experience and talent from across the globe, gather and come together in one place is indeed a rare happening and IOGKF has gone to a lot of effort to bring many of its highest regarded instructors to the Budosai.
A massive 22 instructors will take to the floor of the Okinawan prefectural Budokan to share their skills and knowledge with participants for every part of the planet, in an event open to all martial artists regardless of their background. Let's take a look at who your Budosai instructors will be.
BUDOSAI GASSHUKU EVENT INSTRUCTORS:
Master Morio Higaonna – IOGKF Supreme Master –  10th Dan Black Belt
Our first featured instructor is also our most special. Sensei Morio Higaonna has been the pioneer for spreading Okinawan Goju-ryu Karate-do to the world. Born in 1937, he began training at the famous Garden Dojo of style founder, Chojun Miyagi, who has passed away a few years beforehand. Sensei became the disciple student of Master Anichi Miyagi, successor of Goju-ryu. From an early age, Sensei Higaonna's dedication and skill were quickly noticed. Upon moving to Tokyo for University studies, Sensei Higaonna began teaching at the now famous Yoyogi Dojo and quickly achieved international fame when martial arts historian Don Dreagor described him as 'the most dangerous man in Japan in a real fight'. His demands to teach overseas built to a point where he formed the IOGKF in 1979 with the blessing of his own teacher, along with the family and many senior students of Chojun Miyagi.
The legend of Sensei Higaonna continues to attract thousands to IOGKF events around the world everyday and recognition in his homeland of Okinawa was awarded to him when he received the status of a living cultural treasure. Master Higaonna no longer travels outside of Japan to teach, however he is currently busy preparing to welcome the world to Okinawa in July and share his art with the next generation. The Budosai could well be one of the Masters final major Gasshuku's as he may choose not to teach at big events in the future. Don't miss the chance to train with a living legend.
Sensei Tetsuji Nakamura – IOGKF World Chief Instructor – 7th Dan Black Belt
The bridge between this ancient art and the modern world, Sensei Tetsuji Nakamura became the successor to Master Higaonna and took up his teachers role as world chief instructor of IOGKF in 2012.
Sensei Nakamura first began practicing Karate in high school, until coming across Shuichi Aragaki, a Goju-ryu Master and student of style founder Sensei Chojun Miyagi, while on vacation in Okinawa. The two trained together and Sensei Nakamura soon moved to Okinawa permanently to learn from Sensei Aragaki. Sensei Aragaki took the young Sensei Nakamura to the Higaonna Karate Dojo and put him through the same traditional training methods Sensei Chojun Miyagi utilised for his own development.
Sensei Nakamura moved to America, then Tokyo, then to Okinawa to follow Sensei Higaonna and learn as much as he could from him. During this period he became a world champion in both Kata and Kumite. He became administrative director of IOGKF in 2003,  before becoming World Chief Instructor. He currently resides in Canada, where his 'Shudokan' Dojo is frequented by many International visitors eager to learn more from him. He speaks fluent English and is looking forward to welcoming you all to the birthplace of Karate.
Sensei Bakkies Laubscher – IOGKF Technical Advisor – 9th Dan Black Belt
Big, fast and powerful is the best way to describe Sensei Bakkies Laubscher. Having celebrated over half a century of continuous Karate training, Sensei Bakkies was a wealth of martial arts experience that few can compare with. Growing up in South Africa, he would sometimes have to 'train hop' to get to the Dojo to practice. His dedication to Karate was then further proved when he travel to Yoyogi Dojo to train with Sensei Higaonna in the 1970's – to reach Japan from South Africa at that time required six weeks at sea!
Sensei Bakkies has followed his teacher from the moment he first saw him, over 40 plus years ago. His own passion for Karate has seen him instruct in over 20 countries and in 2015 he became the first person to ever achieve the rank of 9th Degree Black belt from Master Morio Higaonna. He has a great way of explaining his teachings and putting them into perspective, which is supported well by his experience of a career spent in the military. Sensei Bakkies encourages everyone to attend the world Budosai.
Sensei Kazuo Terauchi – IOGKF Technical Advisor – 8th Dan Black Belt
Sensei Kazuo Terauchi is the world famous, tough as nails, senior IOGKF instructor who began his training at the Yoyogi Dojo under Sensei Higaonna. Sensei Terauchi has spent his whole life conditioning his body, mind and spirit to become a masterful exponent of Goju-ryu Karate.
He teaches out of the now famous Kiyose Dojo in Tokyo, Japan and has featured in numerous presentations of Goju-ryu over the years. From Japanese game shows, to documentary videos, Sensei Terauchi's ability to instruct all levels and all ages is widely regarded.
Affectionately known by many IOGKF members around the worlds as 'Mr.T', Sensei Terauchi is a private man, with not a whole lot know about his background. Stories of him being a body guard for the Emperor are often told, but his humility is one of his greatest attributes. Sensei Terauchi is like a time capsule of ancient information and modern advanced techniques and he loves attending the world Budosai.
Sensei Ernie Molyneux – IOGKF Vice Chief Instructor – 8th Dan Black Belt
Sensei Ernie Molyneux is widely known as one of the best fighters in the IOGKF. His first experience in Karate was back in 1972 and shortly after an impressive tournament career followed in both Kata and Kumite, with European and World championships being won. He first met Sensei Higaonna in 1977 and has been with him ever since. Sensei Ernie often became his teachers partner of choice when it came to large scale demonstrations across Europe over the years and he has assist Sensei Higaonna all over the world.
Sensei Ernie became IOGKF Vice Chief instructor in 2012 and has sat on the IOGKF Executive Committee since before this time. His International events receive large attendance where ever he goes and his ability to take Kata movements and incorporate them into effective modern fighting techniques is world renowned. Sensei Ernie's video library can be viewed at www.effectivetraditionalkarate.com Sensei Ernie is eagerly awaiting the Budosai in Okinawa.
Sensei Henrik Larsen – IOGKF Vice Chief Instructor – 8th Dan Black Belt
Sensei Larsen is the chief instructor of IOGKF Denmark and is one of the world's most popular Goju-ryu instructors. His own Dojo has over one thousands members training regularly and is located in one of Denmark's smallest towns – this alone speaks a lot for his abilities.
He became a Dojo instructor when his original Sensei was literally hauled away by the police during a class for reasons still unknown! As next in the line, Sensei Henrik stepped to the front of the class and has been there ever since. He recently celebrated his 40th anniversary of Karate training in Denmark and in 2012 was promoted to the Vice Chief instructor of IOGKF, a role he shares with Sensei Ernie Molyneux. Sensei Henrik is also the longest serving member on the IOGKF International Executive Committee. He is looking forward to meeting everyone again in Okinawa.
Sensei George Andrews – 8th Dan Black Belt
Sensei George Andrews has been a senior student of Sensei Higaonna for many years. Residing in England, he is head of the Okinawan Traditional Goju-ryu Karate-do Association (OTGKA).
In 1974, Sensei Andrews opened his first Dojo, the famous 'Marble Factory'. At it's peak the Dojo is said to have been teaching over one thousand students a day. Sensei Andrews has been attending and teaching at European Gasshuku's and other International events for decades. He even spent time in Russia teaching at the Kremlin.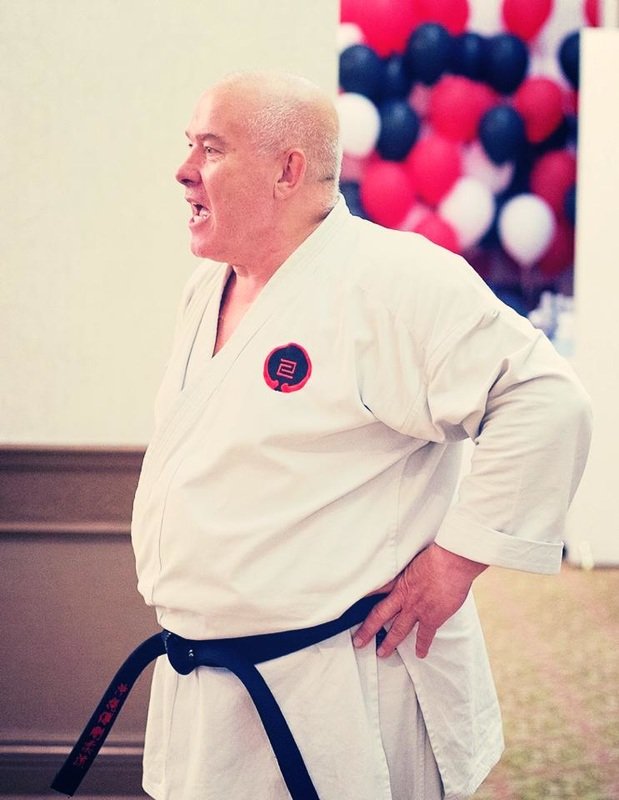 Sensei George Andrews brings a spiritual aspect to his sessions and widely known for his San Dan Gi classes. He welcomes you all with open arms to the Budosai in July.
Sensei Takashi Masuyama – IOGKF 8th Dan
Sensei Masuyama is an 8th Dan in IOGKF and Okinawan Goju-ryu. Originally from Japan, he now resides in Sweden where he has a private Dojo.
He is well known for his high Kata level and easy to understand teaching ability. He speaks very good English and is a popular instructor on the European Gasshuku circuit. Sensei Masuyama has a very gentle manner, with a motivating training style that would prove beneficial to all martial artists. He speaks fluent English.
Sensei Masuyama often says that Okinawa is the best place in the world to practice Karate and he wants to train there with you in July.
Sensei Pervez Mistry – IOGKF 8th Dan
Sensei Pervez Mistry is the chief instructor of IOGKF India and is now the last remaining country chief instructor who was in this position during the founding of IOGKF in 1979. He has been a student of Sensei Higaonna prior to this as well and is considered the father of traditional Karate in India.
He has spent a great deal of time traveling around the world to teach Karate along with researching the art, with his biggest passion being Sanchin Kata. Sensei Mistry recently published his lifetimes work in a book about Sanchin which will also be available at the Budosai. He has a wealth of knowledge gathered over a period of time that very few martial arts instructors could compete with. He is wanting to share this with all of us at the Budosai.
Sensei Luis Nunes – IOGKF 8th Dan
Sensei Luis Nunes is loved and adored by IOGKF members all over the world. A popular instructor at all European Gasshuku's, Sensei Luis has taught in over 15 different countries and began his Karate training in the 1970's.
Now the chief instructor of Spain, he has been a loyal student of Sensei Higaonna since 1978 and received his Shodan at the very first ever IOGKF European Gasshuku in 1980.
Sensei Luis has a very energetic and passionate teaching style. A double hip replacement in recent years has not slowed him down in the slightest, and you can expect to see Sensei Luis racing around the floor in Okinawa at the World Budosai. Sensei Luis also speaks fluent English.
Sensei Jorge Monteiro – 8th Dan Black Belt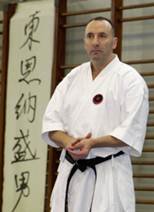 Sensei Jorge Monteiro is the chief instructor of IOGKF Portugal. Despite being a small country Sensei Jorge has built up IOGKF in his country to be one of the biggest member countries in the world. To put this in perspective, last year's Portuguese National Gasshuku saw over one thousand people come to train with Sensei Jorge Monteiro.
He began practicing Karate in 1974 and first met and became a student of Sensei Higaonna in 1977. He also took his Shodan grading at the 1980 and very first IOGKF European Gasshuku. He has been chief instructor of Portugal since 1988. He speaks fluent English and is hoping to see many new faces at the IOGKF World Budosai.
Sensei Roy Flatt – 8th Dan Black Belt
Sensei Roy Flatt is one of IOGKF England's (EGKA) most senior instructors. With over 35 years of Karate training under his belt, he is also an in demand instructor across Europe and the world.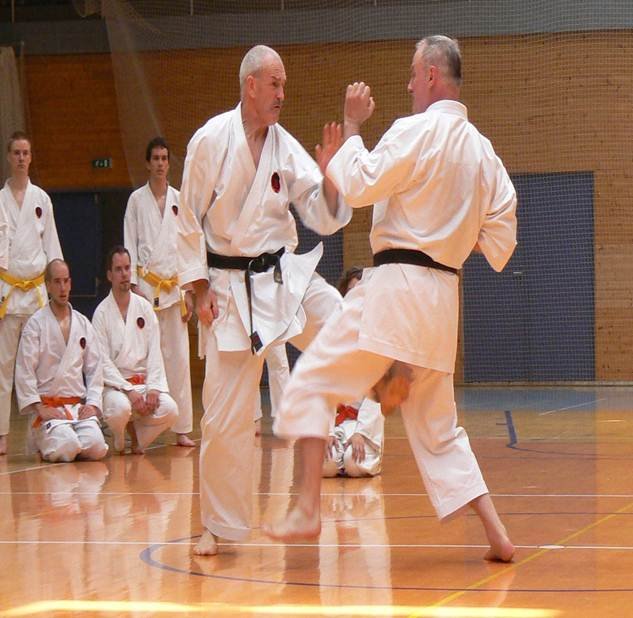 He has had an extensive career working in the security industry and knows first-hand traditional Karate's most effective fighting and self defence techniques. Sensei Roy has an impressive tournament career and has also gone on to train students who have become European and World champions in their own right. With a quick sense of humour and no non-sense approach to training, Sensei Roy is someone every martial artist will benefit from training with and he hopes to see you all in July.
Sensei Yonekazu Uehara – 8th Dan Black Belt
Sensei Uehara is the most senior member of the Higaonna Karate Dojo. Once again, Sensei Uehara was a student at the Yoyogi Dojo during the 1970's. In Okinawa he remained one of Sensei Higaonna's most senior students.
Sensei Uehara featured prominently in the extremely popular BBC special on Karate called 'The way of the Warrior', where he received severe Sanchin testing from Master Higaonna. He has also featured in more recent specials filmed at the Dojo. Sensei Uehara currently assists with classes at the Higaonna Dojo on a regular basis, in between traveling the globe to teach at Gasshuku's. He is really happy to hear so many martial artists are coming to Okinawa for the Budosai.
Sensei Katsuya Yamashiro – 7th Dan Black Belt
Sensei Yamashiro is the chief instructor of Japan and Okinawa for IOGKF. He lives in Okinawa and teaches in Naha out of the Yamashiro Karate Dojo.
He began his Karate training at the age of 16 in Uechi Ryu and began practicing Goju-ryu a few years later. He also spent a lot of time being taught by Sensei Shuichi Aragaki. He then became a student of Sensei Higaonna's and also spent a lot of time training under Sensei Terauchi, enduring very hard physical training.
He became an accomplished tournament competitor and is a multiple time full contact champion in Okinawa. Sensei Yamashiro now spends a lot of time traveling to teach in Europe and across the world and known for his gentle personality and lightning quick movements. He is one of the main organizers of the Budosai event.
Sensei Masakazu Kuramoto – IOGKF 7th Dan
Sensei Kuramoto is another key person who draws hundreds of overseas visitors to the Higaonna Karate Dojo each year. He is a stern instructor, but has a gentle and hospitable nature. He takes a majority of the training at the Dojo when Master Higaonna is absent.
Sensei Kuramoto is also originally from the Yoyogi Dojo era and despite having had until recently a busy working life, he returned to Okinawa and the Higaonna Dojo to assist Sensei Higaonna while he was away travelling. Sensei Kuramoto himself now travels overseas annually to conduct Gasshuku events all around the world and speaks very good English. He is excited to welcome you to his home of Okinawa.
Sensei Juichi Kokubo – IOGKF 7th Dan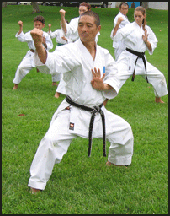 Sensei Juichi Kokubo is the chief instructor of IOGKF in Peru. He was a senior student of Master Higaonna back in the famous Yoyogi Dojo period. To be a senior student is such a high quality and high intensity Dojo speaks for Sensei Kokubo abilities. He is featured in many presentations for this era, including the famous 1970's Kata and Bunkai video of Sensei Higaonna.
He moved to Peru many years ago to develop Okinawan Goju-ryu Karate-do in his country. He spends a lot of time teach Goju-ryu across South America and at the major events held in the region. Sensei Kokubo is very excited about returning to Okinawa to train with martial artists from all over the world.
Sensei Linda Marchant – IOGKF 7th Dan
Sensei Linda Marchant is also a senior IOGKF England (EGKA) instructor. Along with this she is also the highest ranking female with the International Federation. Her commitment to her training sees her travel to Okinawa to train with Sensei Higaonna regularly.
Sensei Linda lives in London and teaches out of her very popular Tooting Dojo, which is regularly attended by International visitors. Sensei Linda has become an inspiring instructor for martial artists everywhere and has taught Gasshuku's and specialty sessions all over the world. She is incredibly strong, fast and agile and is welcoming everyone to the Budosai this July.
Sensei Britt Larsen – IOGKF 6th Dan
Sensei Britt Larsen is a senior instructor within IOGKF Demark. She is one of the world's top ranking IOGKF female exponents and an impressive Karate instructor.
She has an impressive tournament career and has spent time as the National Kata coach for the Danish team for the World Karate Federation (WKF) International Championships. Sensei Britt will be teaching at the World Budosai for the first time and this is an excellent opportunity for martial artists of all background to learn from her on the world stage.
Sensei Eric Higaonna
Sensei Eric Higaonna needs no introductions. The only child of Master Higaonna, Sensei Eric is one of the most polite and respectful martial artists you could ever hope to meet. His training background is extensive. From being a talent wrestling exponent in high school, obtaining black belt in IOGKF whilst spending time in Okinawa, Tokyo and Canada learning from the likes of his father, Sensei Terauchi and Sensei Nakakmura, and not to mention he is an accomplished mixed martial artist and cage fighting champion with an undefeated record.
Sensei Eric will be bringing this wealth of talent to Budosai where he will specialize in teaching ground fighting techniques to all who attend. This is a great opportunity to learn from one of the best and Sensei Eric is really excited to be returning to Okinawa to teach at this event.
Sensei Terry O'Neill – Shotokan 8th Dan 
Sensei Terry O'Neill has become a Karate legend in his own right. One of the world's most accomplished tournament champions in both Kata and Kumite, Sensei Terry has been practicing Karate for over 50 years. A student of Shotokan Master's Hirokazu Kanazawa (SKIF) and Keinosuke Enoeda for his whole life, he also began training with Master Higaonna from 1970 attending the famous Yoyogi Dojo while traveling to Japan to pursue his Shotokan endeavors.
Sensei Terry also has had a successful career in media. He ran the now famous 'fighting arts international' martial arts magazine for many years and starred in film alongside the likes of such stars as Arnold Schwarzengger, Sean Connery and Michael Caine. This will be Sensei Terry's second trip to Okinawa, with his first being way back in 1973. He said that is both thrilled and delighted to once again have the great privilege to return to the island of Karate to be reunited with Master Higaonna and is looking forward to meeting many martial artists at the Budosai.
BUDOSAI CHILDRENS GASSHUKU EVENT INSTRUCTORS:
The Budosai will feature all grades training every morning in the Budokan main arena. Children will have the opportunity to learn from Master Higaonna and other IOGKF senior instructors every day, before taking part in specialty sessions at the children's only Budosai event. IOGKF has carefully selected proven childrens instructors to teach our youngest members at the Budosai.
Sensei Paul Nolan – IOGKF 7th Dan Black Belt
Sensei Paul Nolan is one of IOGKF England's (EGKA) most senior black belt instructors. His Asagi Karate Dojo has one of the most successful and popular childrens programs in the United Kingdom with a very high rate of taking children from white belt right through to adult black belts.
Sensei Paul began training in 1974 and has a wealth of Karate knowledge and motivational tools to get the best out of all children. He has also spent over 20 years teaching Karate in schools to children and giving them the opportunity to reap the benefits of traditional Karate. He is really looking forward to teaching all the lucky children who are attending the world Budosai.
Sensei David Lambert – 4th Dan Black Belt
Sensei Lambert is a senior instructor within IOGKF Australia (AOGKF) and is one of a growing number of IOGKF members worldwide to have trained through all age levels. Beginning his training under his father at the age of three, he now runs two very successful Dojo's with extremely popular children's classes. He taught children's classes at the last Budosai along with having taught in Europe, Oceania and even at IOGKF Honbu Dojo in Canada.
Sensei Lambert is an solid IOGKF tournament record within Australia and has spent an extended period of time in Okinawa training under Master Higaonna. He also travels regularly overseas to train with Sensei Nakamura. He can't wait to see all the children at the Budosai.
Sensei Kayle Larsen – 4th Dan Black Belt
Sensei Kayle was originally a student of Sensei Ernie Molyneux in England and began her training over 20 years ago. She moved to Denmark and has been an active member of the Denmark Honbu Dojo for over 10 years.
Sensei Kayle works at a martial arts and Asian Language school in Denmark where she teaches Karate to the students there for three hours every day. Twice a year she takes a team of school students to Okinawa to train with Master Higaonna at his Dojo. She is also very proactive in organizing womens only Gasshuku events in Europe. She is very much looking forward to teaching all juniors in July.
Having so many talent instructors come together in one location is literally unheard off. You have the opportunity to spend a week in Okinawa's paradise learning directly from all these leading Sensei in grade specific groups for your level. Only question remaining is, have you registered yet?